Dutch nursery Hoogenraad Handelskwekerijen BV
At Hoogenraad we deliver our plants only to wholesalers, plant nurseries and trade partners in all of Europe. Countries such as the Netherlands, Germany, Great Britain, Poland, Ukraine, Turkey, Georgia, Azerbaijan and more. That's what makes us a wholesale plant nursery. We do not supply the plants from our Dutch nursery to private individuals.
In our Dutch nursery the young plants are nurtured by providing them with optimum growing conditions to ensure germination. Our Dutch nursery in young plants is intended for further production in several countries – mainly in P9 and P12 (pot size) containers. Some of the varieties are available in bigger sizes: C1, 5, and C2 (conifers). Among the more than 5 million young plants that grow up every year in our field from our Dutch nursery are representatives of about 3,000 varieties of conifers, deciduous, hydrangea, perennials, shrubs, fruit plants and grasses. We offer grafted plants, which means that the upper part of one plant grows on the root system of another plant. Grafting is a fast way to grow popular, desirable varieties of fruit plants and flowering shrubs on a large scale.
Our container nursery covers a total area of over 19 ha, from which 3 ha are greenhouses and tunnels. The main production is in the open space. Every year we have over 5 million plants in cultivation, in more or less 3000 varieties. Our permanent staff consists of 25 people. In the high season, we hire 50-60 people. We are situated in Ederveen, a village in the Dutch province of Gelderland, located in the municipality of Ede. Ederveen has around 3,665 inhabitants. Ederveen is a green place, where our plants have enough space to grow. If you would like to visit our Dutch nursery, let us know.
Wholesale plants in Vitro culture
Over the years, we have gained extensive knowledge and experience in the field of plant propagation in 'in vitro' cultures in our Dutch nursery. 'In vitro' is Latin for 'within the glass.' When something is performed in vitro, it happens outside of a living organism.
The in-vitro cultivation of plants means, that individual cells or plant are cultivated under sterile, laboratory conditions. By adding certain growth regulators such as phytohormones, new and intact plants can be generated from small pieces and even cells. Phytohormone is the name for substances produced in the plant that regulate the growth of the plant. Hoogenraad collaborates with laboratories all over the world
Although conventional breeding is getting in importance and is becoming more and more effective, tissue cultures are still the best solution for young plants such as azaleas – Rhododendron, lilac (Syringa), viburnum (Viburnum), birch (Betula), magnolias (Magnolia), dogwood (Cornus) and blueberries (Vaccinium).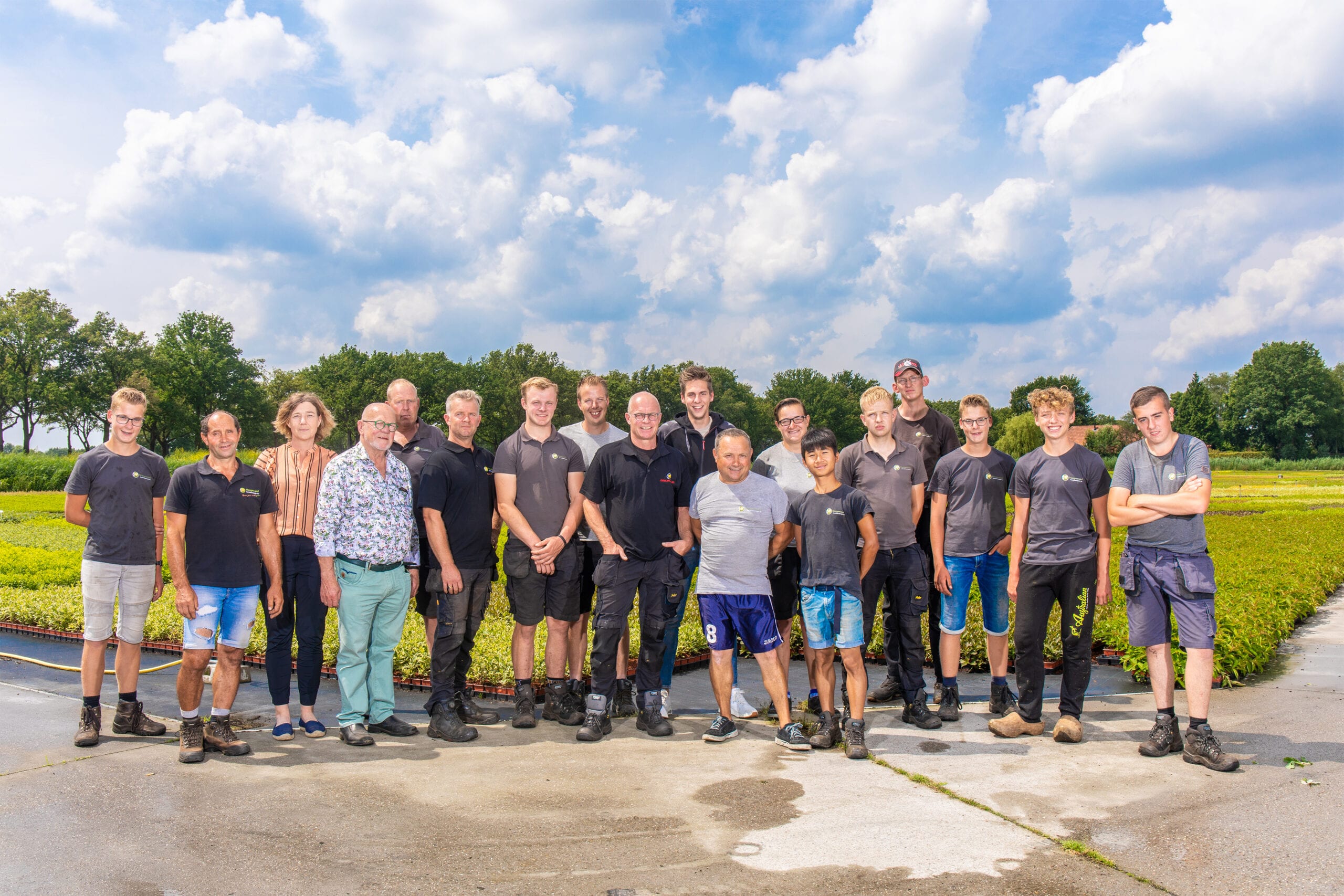 In recent years, our Dutch nursery has minimized the use of chemical plant protection products (so-called pesticides). Whenever possible, we use ecological and natural enemies to combat pests. In addition, we use solar panels to deal with energy in a sustainable way. Our pots are also suitable for reuse and traceable due to the red color. Our goal is to completely eliminate all products that are harmful to the environment. We try to operate as environmentally friendly as possible in our Dutch wholesale plant nursery.
The history of our Dutch nursery
In 2015, our Dutch nursery celebrated its 50th anniversary. Initially, it was located on a plot of just 1 ha (today 19 ha), now we have expanded and have a new office at Oudedijk 1B in Ederveen.
In the early 1970s, Gerrit Hoogenraad, the founder of the nursery, came to the conclusion that there would be a future shift from filed grow cultivation to container production. He was one of the first producers in the Netherlands who bought a potting machine. Gerrit is still involved in the activities of the Dutch nursery, although he has already transferred responsibility for the management of the company to his son Sebastiaan and daughter-in-law Hannie.
Since that time, the Dutch nursery Hoogenraad has started to professionalize considerably. Less trade, more production and novelties. The range has been drastically expanded and innovative with many new plant species. We have a larger range compared to our competitors. We launch new plant species on the market every year.
Do you want more information, or do you have a specific order? Do not hesitate and contact our Dutch nursery. We help you with all your questions!