Hydrangea or hortensia is a genus with more than seventy species. Most are hydrangea shrubs, but some are small trees. They can be deciduous or evergreen. They are famous for their beautiful flowers that come in a variety of shapes, colors and sizes. The flowering shrubs can grow in partial shade to full sun.
Hydrangeas: what are they?
The hydrangea is mostly considered a shrub and blooms in the spring and summer. Hydrangeas grow quickly and often fills in a space in just one summer. Nowadays we can grow many hydrangea varieties that were not possible before. Some newer hydrangeas grow in colder climates, some are so small they will fit into the perennial border, and others have amazingly large blooms and deep colors. Hydrangeas are very diverse!
Hydrangeas usually bloom in the summer, with some blooming earlier (in the spring) and some even later. The flowers of a hydrangea bloom in shades of pink, purple, blue, white, green, yellow and some red varieties. A popular one is the hydrangea paniculate 'Little Spooky', a flowering plant of the family Hydrangeaceae native to the south and east of China, Korea, Japan and Russia.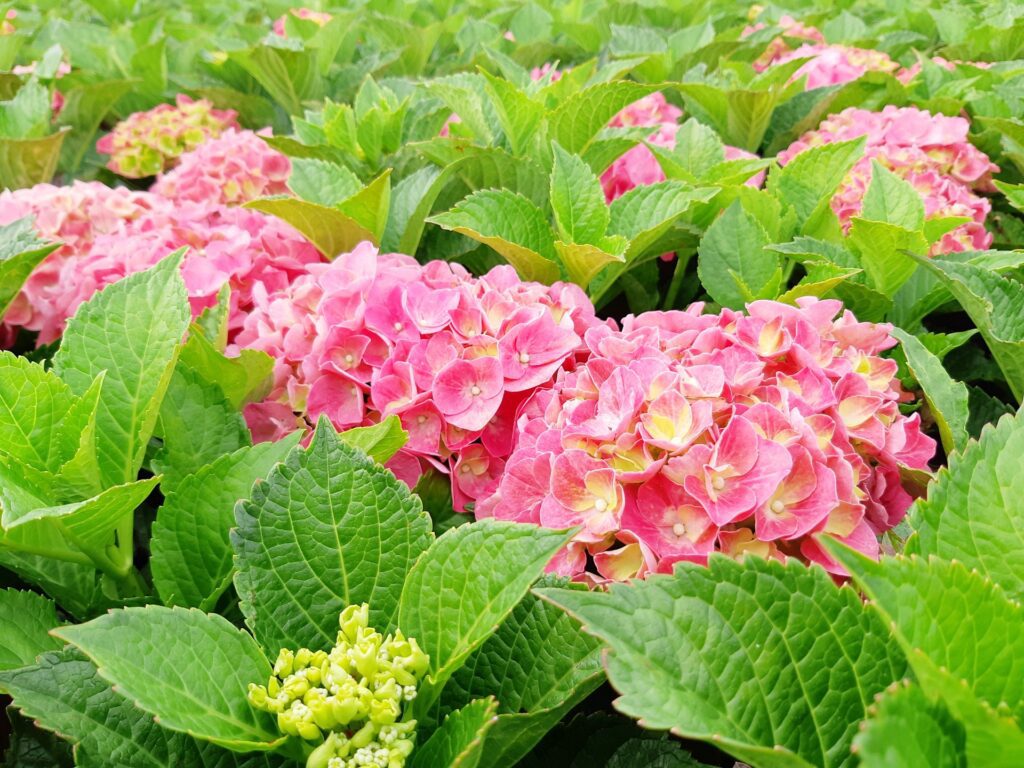 Hydrangea shrubs are a species of flowering plants. They reach an average height of 1-3 meters. They are famous for their extensive and colorful flower heads. The pH level of the soil determines the color of their flowers. Hortensia shrubs grow and bloom best in loose, well-drained and nutrient-rich soil, with a fair amount of sunlight in the morning and some shade in the afternoon. Most hydrangeas flower from the spring until around October and have a beautiful winter appearance! Hydrangea shrubs are timeless and popular. Hydrangeas can range in colors, with many shrubs producing several types of variations. They can be bright blue or vibrant pink and beautiful shades of white. You will find almost all colors in our range! Hydrangea shrubs tend to be natural growers, thriving in many varieties of soil types.
We have a wide range of hydrangeas. From lavish red hydrangeas to calm white hydrangeas: we have suitable hydrangeas for every customer. All our hydrangeas are of high quality and have beautiful flowers. For instance, the popular hydrangea paniculata with beautiful and big flowers. The hydrangea paniculata ages from green and white (lime) to a mellow pink as the season progresses. It is a fast grower and an eyecatcher in every garden.
Or the Hydrangea arborescens 'Annabelle' : a striking plant. The leaves are light green and very soft. It blooms in large spherical compound inflorescences, which appear in June-August; these are white with a hint of lime green. The Hydrangea aspera usually grows into a large shrub with a height of 200 to 250 cm. The white-lilac flower heads of Hydrangea aspera appear in the period June-July.
Then we have the hydrangea macrophylla. It is an easy deciduous shrub, flowering in summer with subdued to very theatrical colors ranging from white, red, pink, deep pink, blue to purple. The flowers are usually spherical. There are also Hydrangea macrophylla varieties that bloom all summer long.
We offer various hydrangea plants, also as small hedges. Take a look at our product range and find out what Hoogenraad can do for you. Request a tailor-made quote and order your wholesale hydrangeas! Do you have questions about our products or are you looking for advice? Please do not hesitate to contact our Dutch nursery. We are happy to help you!
Discover our hydrangea assortment
Check out our current stock