Offer from our Dutch wholesale plant nursery
Deciduous shrubs are low maintenance plants that give structure and color to every garden. At our wholesale plant nursery, we have different varieties of deciduous shrubs to choose from. Below you will find more information about our deciduous shrubs. View the beautiful shrubs from our Dutch nursery in our offer.
What is a deciduous shrub?
The term 'deciduous' means 'tending to fall off'. This means that trees and deciduous shrubs seasonally shed their leaves (usually in the autumn). It also means shedding of the petals after flowering and shedding of ripe fruit. Deciduous shrubs have vibrant flowers in the spring and summer, colorful leaves in the fall, and then drop their leaves when it becomes cold, and the winter starts. They range in form, color, size and shed their leaves each fall before they go to sleep in the winter.
Warm spring temperatures and rainfall wake deciduous shrubs and they start to form new leaf buds. When the temperature stays warm, the leaves develop more fully and reach maturity by the time summer arrives. When the temperatures begin to cool, deciduous plants instinctively begin to shut down and their leaves change colors and drop to the ground.
Deciduous shrubs are often planted for seasonal interest, color and texture. They are popular because they stop wind, give more privacy to a garden and stimulate wildlife habitats. There are many deciduous shrubs varieties, such as the prunus laurocerasus Sofia, Deutzia gracilis and various types of Syringa (look at our offer).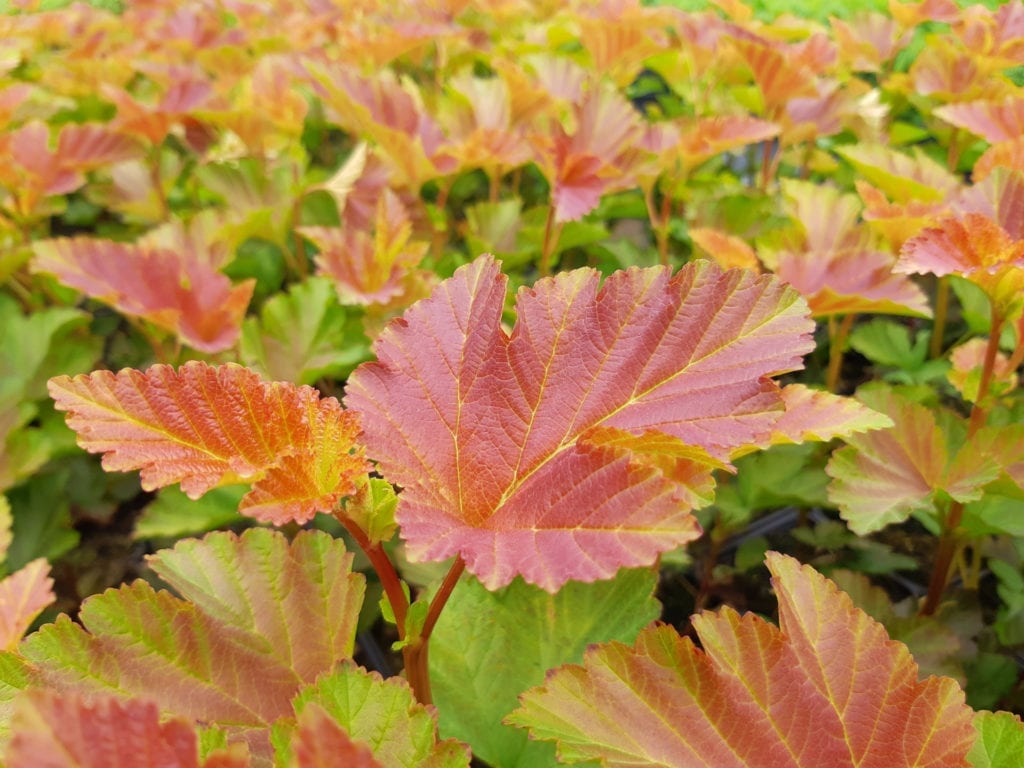 Deciduous flowering bushes
A lot of deciduous flowering bushes have broad leaves that are typically thinner to tear than other plant species. They have bright colors in the spring and summer. In the fall they go dormant to conserve water. During this period, the deciduous shrub has no leaves, just bare branches. A few well-known flowering bushes are hydrangea and Buddleja.
Look at our wholesale deciduous shrubs offer
We have a wide range of deciduous shrubs. We only offer our plants to wholesalers, plant nurseries and trade partners in the Netherlands and other countries such as Poland, Ukraine, Turkey, Germany, Great Britain, Russia, Georgia, Azerbaijan and more. We are a wholesale plant nursery and produce plants for further production.
One of our popular deciduous plants is our Prunus laurocerasus Sofia. An exceptional beautiful plant that has very nice, narrow leaves with serrated edges. It looks much more delicate (and also more exotic) than other laurels. Prunus laurocerasus Sofia PBR (P9) was awarded a golden medal at GrootGroen's novelties competition 2019. It's a very suitable deciduous shrub in a garden, terrace or patio. You will enjoy these deciduous shrubs for years.
You can also choose the Viburnum tinus 'Gwenlilian', they look a lot like hydrangeas and are dynamite deciduous shrubs that range in height. They often produce fabulous fragrant flowers and have different textures. The colors range from green to red. Discover what Hoogenraad can do for you. Do you want more information? Do not hesitate and contact our Dutch nursery. We are happy to help you!
Discover our deciduous shrubs assortment
Check out our current stock