Conifers are popular plants with specific characteristics. Conifers are most abundant in cool temperate and boreal regions, where they are important timber trees and ornamentals, but they are most diverse in warmer areas, including tropical mountains. We have a wide range of conifers for production. We deliver conifers and other plants to various customers in Germany, Great Britain, Poland, Ukraine, Turkey, Russia, Georgia and Azerbaijan. You can read more about our conifers below.
Conifers form a group with more than six hundred species. A conifer is both a (dwarf) tree and a shrub, when the conifer has no trunk. Conifers are mostly evergreen trees or shrubs with leaves or needles and seed-bearing cones. They are cold-hardly, resistant and require low maintenance. Conifers provide year-round color and texture and come in different shapes and sizes. Typical examples include cedars, cypresses, firs, junipers, kauris, larches, pines, redwoods, spruces, and yews.
There are many different types of conifers. The main categories consist of Thuja, Chamaecyparis and the Leylandii Conifers. All types can grow into trees, if conditions permit. A common conifer species is 'the tree of life', also called Thuja. This conifer is characterized by a fairly slender growth. You can recognize this conifer by its shiny, bright green scales. This conifer can withstand wind very well and, in addition to being evergreen, is also very hardy.
The Thuja, unlike some other hedge conifers, is fairly easy to maintain. The tree of life grows quite quickly, but not as fast as, for example, the Leyland cypress. 1 to 2 pruning per year is enough to keep a Thuja hedge in its beautiful, sleek shape. The Thuja is a hedge conifer that remains beautiful and healthy with minimal care. This makes this conifer particularly popular with garden enthusiasts who prefer an easy garden design.
Another advantage of the Thuja conifers is that it tolerates almost all soil types well. However, a nutrient-rich and slightly moist soil is preferred. In our webshop you will find different types of Thuja: from the traditional Thuja 'Smaragd', which is a robust tree of life with which you can create a full, sight-tight hedge, to the bright Thuja 'Golden Smaragd'. This Thuja is famous for its charming emerald, green color. It grows a little slower than the Thuja 'Brabant' and has an elegant, perhaps even delicate look. Our conifers come from our Dutch nursery and are in excellent condition. A solid conifer that you can enjoy for a long time!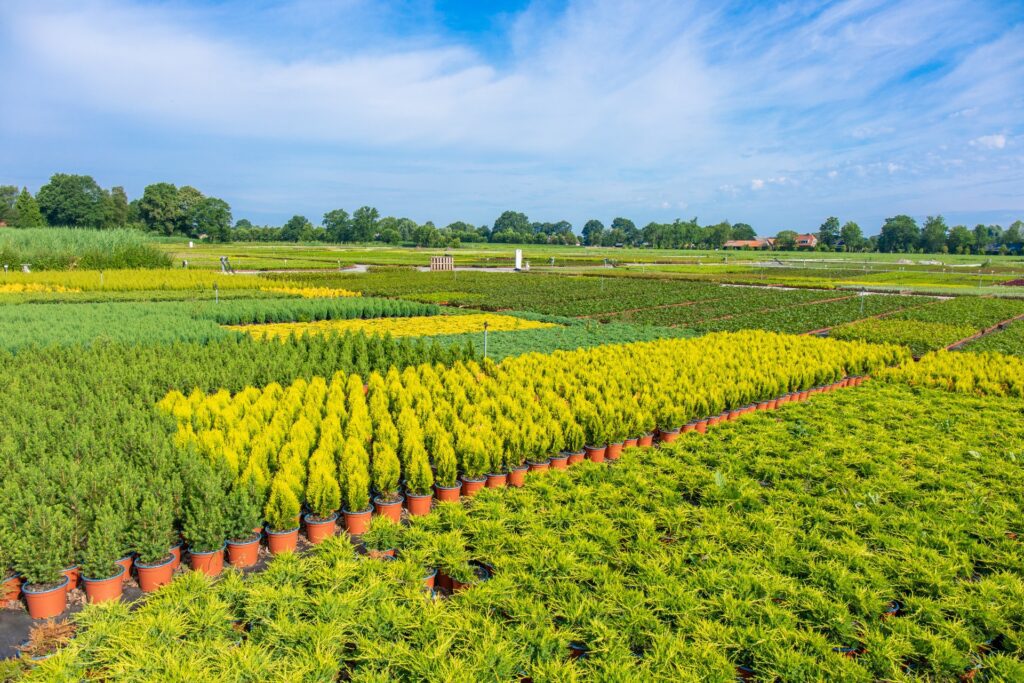 Conifer shrubs sparkle with waxy green needles and they keep their stunning color all year long. Full of interesting textures and shapes, these shrubs are the perfect way to control the visual flow of a yard or garden. At Hoogenraad you will find various types of conifers.
Conifers come in all sizes, from forest trees to dwarf conifers. Coniferous trees that are small come in dwarf conifer varieties. Dwarf conifers come in a wide range of sizes, textures, colors, and forms. True dwarf conifers grow slower than their full-size relatives and end up much smaller. Dwarf conifers can have needle, awl, or scale-shaped leaves.
Discover our conifer assortment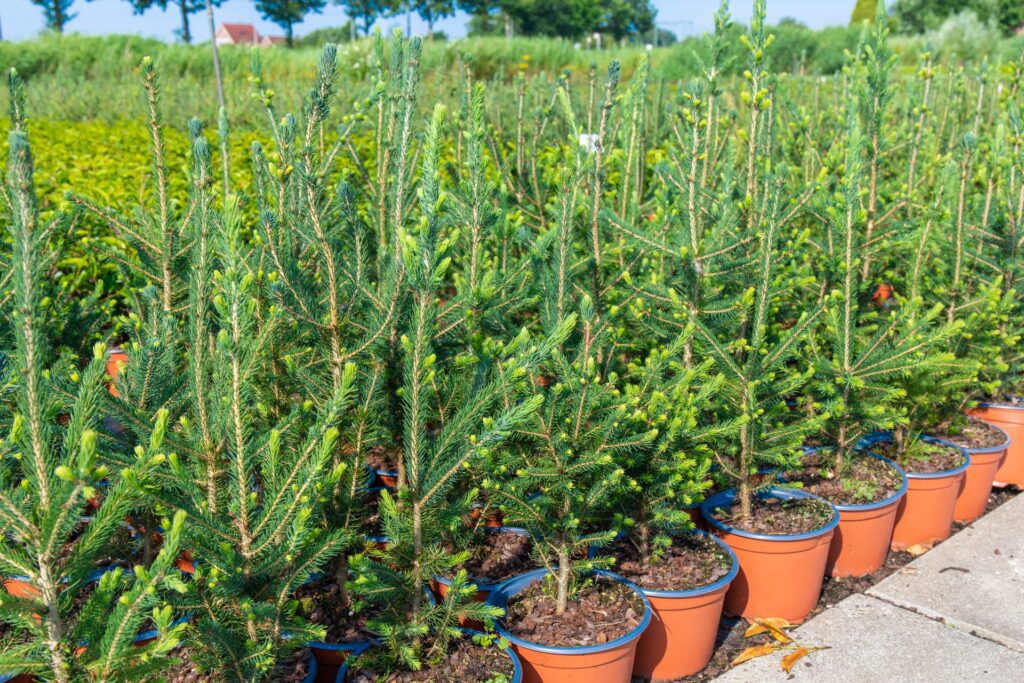 Take a look at our conifers
We have a wide range of conifers. As mentioned earlier, we have many types of Thuja conifers in different sizes. The Chamaecyparis can also be found in P9 and C2. Discover what Hoogenraad can do for you. Do you want more information? Do not hesitate and contact our Dutch nursery!